Our concession area stands ready to serve you with delicious food, treats and refreshing beverages! Why not take a night off from cooking and eat dinner here. Patronizing your snack bar helps us stay in business. Thank you!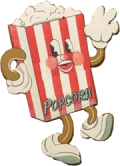 We are presently offering: 
French fries

Onion Rings

Cheese Sticks

Mini Tacos

Pizza Logs

Hot Pretzel

Nachos and Cheese

12 inch Pizza

Pizza slice

Hamburger

Cheeseburger

Hot Dog

Funnel Fries

Milk shake

Rootbeer Float

Boneless Chicken Wings

Chicken Tender/Fries

Loaded Fries/Bacon

Popcorn

Coffee

Hot Cocoa

Soft Drinks "Pepsi Products"



Concession Stand Also Accepts: