The Kane Family Drive In (originally called the "Ideal Drive In") was built in 1952 by Clyde Piccirillo of Ridgway, PA. It was built for Joseph Farrell of St. Mary's and Harold Prosser of Altoona. Waldemar Anderson, of Mt. Jewett, operated the Drive In until 1957, when it was sold to Clifford Brown and F.R. Holmes Poster Advertising Co. of Kane. At this time, it became known as the "Family Drive-In". The theater was run by Lyle and R. Wayne Holmes. All buildings are original. One unique feature of the Kane Family Drive In is the 60 foot cement block screen, which is four stories tall and open on the inside.
In 1969, Fred Holmes became the projectionist for the theater. In 1983, Fred purchased the drive-in and continued to run it, along with his wife Mary and their daughter, son-in-law and grandchildren until 2014. The Drive In was Kane's Business of the Year in 2011. In 2013, the Holmes family upgraded to a digital, high-definition projector, which has made movie viewing an even more exceptional experience. 
We feel very fortunate to have the opportunity to carry on Fred and Mary's tradition of family entertainment. We hope that you will enjoy your time spent at this historic theater.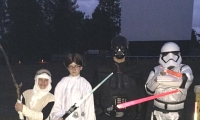 2015 – Never before in the 63 year history of the kane family drive-in has a movie been shown in the winter.
The drive-in awakened December 18th for 3 weekends with the newest Star Wars: The Force Awakens! With a new fm transmitter and a freshly painted screen. Dressing up was encouraged.